There will be many things you have to do to maintain a loved one's gravesite and one of these things can be to clean their grave marker. If that is something that you have never done before, you may not be sure how to manage it. It can be important to have some tips that can help you with this. Before you get started, directors of funeral homes in Laconia, NH have some tips that you want to remember.
It is important to assess the marker before you begin. A marker that has signs of damage, like crumbling, flaking, cracking, or similar issues can be too unstable to clean. If you see that it also moves around, this can also be a bad sign. You want to avoid cleaning the marker if you are not sure whether it will be able to hold.
Another thing to consider is the equipment you get for the cleaning project. You do not want to use anything with hard bristles or anything like power-washing equipment, because that can cause lots of damage. Instead, you want to use sponges and brushes with soft bristles. You want to also avoid harsh chemicals like bleach, since they can leave stains. For most markers, soap, water, and detergent are a good option.
You also want to remember the material the marker is made of. If it is made of marble, you can want to start off by soaking the marker with water. This is because marble is porous and will absorb liquid. To keep it from absorbing the cleaning solution you choose, you want to use water first. If you see there is algae or mold, you can add a bit of ammonia to the water and use that. Only use ammonia if the marble is light in color, since it can leave stains in darker stones. If it is dark, use soap and water only.
For a marker that is made of granite, you want to begin in the same way as you would with marble. If you see stains or algae, you do not want to use ammonia. Instead, use an ounce of mild detergent into five gallons of water. When you finish cleaning the marker, be sure to rinse it completely so that there is no residue left behind. You also want to make certain you do not clean at the marker without first wetting it.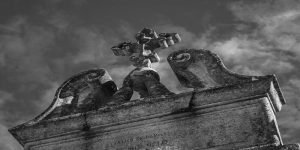 These are some important tips that can help you get the marker looking its best. You want to always use mild chemicals so that you do not have to worry about stains or damage and you want to be sure to rinse the marker when you are done. If you still want to know more about how to clean a grave marker, you want to reach out to a Laconia, NH funeral home like us. We are here to answer all of the questions you may have about this. Give us a call right now or visit our location today to get started with the preplanning arrangements you want.