Modern or Traditional Funeral and Cremation Services in Laconia, NH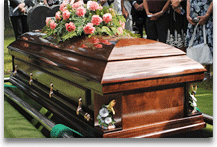 Many families have specific traditions they like to follow for funeral services. It can be comforting to have a familiar pattern or event to honor the life of the deceased. Have you considered the specific traditions or customs that you prefer to carry through the generations? We are here to honor your requests for funeral and cremation services in Laconia, NH.
At Wilkinson-Beane-Simoneau-Paquette Funeral Home & Cremation Services, we provide quality services for families from all faiths and backgrounds. When you contact our team for funeral planning , you will see that one important detail stands out: our commitment to honoring your family traditions. We listen to your requests and honor your family culture. These details can be added to the event of your choice, creating a memorable day for your loved one.
Traditional Packages: Funeral and Cremation in Laconia, NH
If you prefer traditional funeral services, a few common elements will likely be included in your plan:
Viewing or Visitation: Traditionally, attendees gather to share their condolences with the family. You might choose to have the casket present at the viewing, with a few hours where people can see the deceased to say goodbye.
Funeral Services: The main event is often held in a chapel or funeral home. This is the time when family and friends gather for a program. Consider the speakers you would like to invite, as well as music, readings, or other memorial details to include in the formal funeral service.
Procession: When the funeral finishes, pallbearers move the casket to the transportation car. Family members follow in procession to the cemetery where the loved one will be laid to rest.
Graveside: It's common to hold a short graveside service. For example, you might have a prayer or reading to dedicate the grave.
Reception: Sometimes, families hold a luncheon or reception to spend more time together. Decide on your preferred location and atmosphere for this gathering.
Administrative Details: A variety of services are required behind the scenes to support the funeral plan listed above. For example, you need to choose from the available caskets, design a headstone, and coordinate paperwork with the funeral home staff.
Our funeral planning team has the experience you need if you'd like to schedule a traditional funeral or cremation service in Laconia, NH. Or, talk to us about alternative solutions, such as memorials and cremation.
Modern Funeral Services
Even though some families like to maintain religious or cultural traditions, it doesn't mean that you need to stick with the same funeral plan for every event. Instead, some people want to create a unique gathering that highlights the personality of the deceased.
Here are a few options that you might add to a traditional funeral service , or create a modern experience instead of holding to tradition:
Memorial: Planning a memorial is similar to the steps required for planning funeral services. The difference is that a memorial doesn't have the presence of the casket with the remains of the deceased. One option is to schedule a memorial a few weeks after death to accommodate the travel schedules for everyone who would like to attend.
Cremation: The deceased can be reduced to ashes through a respectful cremation service. This practice has been used throughout history, but it is gaining in popularity for modern funerals. Cremation is beneficial because it is more affordable than traditional burial. Plus, you can choose from a variety of urns and decide where you would like your loved one to be placed when the event is over.
Celebration of Life: Why not gather together to celebrate the life of your family member? A celebration of life is a party for friends and family, built around the details that made your loved one unique. For example, some families hold a backyard barbeque or a dance party in honor of the memories that were shared with the deceased over the years.
Small Family Gathering: There's no reason you are obligated to design a large family event. Some people find it more comforting to limit the funeral or memorial to a small group of their loved ones.
Scattering the Ashes: After cremation , you can lay your loved one to rest in the place they enjoyed visiting. For example, scatter the ashes over a lake or the ocean. Or, take the ashes to the top of the mountain at your favorite family vacation spot.
Keepsakes: In addition to the event planning, it can be comforting to choose from various keepsakes, such as Heart's Reflections.
Call a Local Funeral Home
Are you ready to begin the funeral planning process? If it's time to coordinate funeral and cremation in Laconia, NH, then you need to call us at Wilkinson-Beane-Simoneau-Paquette Funeral Home & Cremation Services. We have a beautiful funeral home at 164 Pleasant St, Laconia, NH 03246. Call to learn more about these quality services: (603) 524-4300.
Funeral Home & Cremations FAQs
What kind of services do funeral directors offer?

Funeral directors provide a range of services to ensure that all elements of the service are handled in the most respectful, personalized way possible. Services can include making arrangements with a cemetery or crematorium, creating a meaningful service program for the event, providing support throughout the entire process, and assisting with paperwork such as permits and death certificates.

What types of funeral services can I pre-plan?

You can pre-plan any type of funeral service you wish, including traditional religious services, memorial gatherings, and cremations. Depending on your wishes, you may also include other elements such as burial location, casket selection, and floral arrangements.

What are some common burial options?

Traditional ground burial, mausoleum entombment, and cremation with inurnment or scattering of ashes are the most common burial options for individuals or families. Ground burial requires a casket and grave liner to be interred on cemetery grounds. Mausoleum entombment utilizes the above-ground crypts or niches to house the remains. Cremation is a process whereby the body is transformed into small particles and can be interred in a mausoleum, cemetery plot, or scattered on land or water.
What Clients Say