If you have suffered the loss of a child, it can be exhausting to think about making the arrangements for the service. No one wants to have to focus on this when they are dealing with the grief, so it can be important to consider some tips to help you make these plans. Here are the things that directors of funeral homes in Laconia, NH providers want you to know about planning a service for your child.
The first thing you have to do is to decide on the kind of service that you want for your child. A funeral or memorial is not always what you may want. For lots of families, a celebration of life can be a better choice. A celebration of life allows you to honor the life of your child without focusing only on their passing. A celebration of life can be a great way of honoring who your child was.
You also want to think about where you will have the service. A funeral or memorial at a church or a religious location can always be appropriate, but you can also have a service somewhere that meant something to your child. This is especially the case if you have chosen to have your child cremated, since you can transport the urn without problems. If your child loved being outdoors, for example, you can think about having a service at a park or even at the beach.
Another thing you want to think about is the kind of music that you have for the service. There are a lot of options, but you may not want to have religious or classical music for your child. If that is the case, then you can ask the funeral home director for recommendations of options that can work well for a child's service.
The decorations you choose are another thing that you want to think about with care. Flowers are always beautiful, so consider them for the service. You may think that funeral wreaths are not the best option, however. If that is the case, you can consider asking people to donate flower arrangements. You may also think about adding balloons as decorations, especially if your child loved them.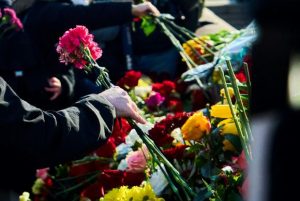 When you start planning the service for your child, you want to consider all of the options that you have. This can include the location of the service, the kind of service, and even the options that you have for decorations and music. There are lots of ways of honoring your child and you can turn to an expert to help you with this. If you want to start this process, you can learn more by reaching out to a Laconia, NH funeral home like us at Wilkinson-Beane-Simoneau-Paquette Funeral Home & Cremation Services. We are ready to help you find the best options for your loved one and for your family. You can give us a call now or you can stop by our location today.