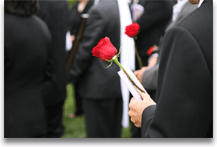 Is it worth the cost to hire a full-service funeral home? If you are preparing funeral service on a tight budget, then it might be tempting to cut a few corners. But it's important to understand the potential challenges you might face in this difficult situation. Not only does your family need help with the disposition of the body, but it can also be valuable to have support with event planning and administrative details. The best thing you can do is hire a local provider for funeral and cremation services in Gilford, NH.
At Wilkinson-Beane-Simoneau-Paquette Funeral Home & Cremation Services, we provide the quality care you need when saying goodbye to your loved one. It doesn't matter if you want a direct cremation or you prefer traditional funeral services. We honor the needs of your family and ensure that you have full support from our team through all stages of the funeral process.
Preparing for Funeral and Cremation Services in Gilford, NH
Our funeral planning staff is here to answer your questions and provide guidance for everything you need to address to create a quality service. Here's a quick overview of some of the most important elements that impact the overall quality of your funeral plan:
Laying to Rest: What is your preference for the way your loved one is laid to rest? Laws and regulations limit your options, depending on the type of service that you desire. For example, if burial is the preferred method, then you need to select a cemetery and purchase a burial plot. A little more flexibility is available for cremated ashes. You can choose an outdoor location to scatter the ashes. These ashes can also be placed in an urn to be kept in the location of your choice.
Products: Now that you have decided on the way your loved one will be laid to rest, it's time to choose the products to match your selected services. We offer various caskets with unique designs and colors. Or, if cremation is your selected service, then you can choose from burial urns or memorial urns to match your funeral plan.
Event: Grief counselors have found that meeting together with friends and family can be an important step in finding healing in the grief. Design an event so you can experience closure. Your family will appreciate a time to gather, and this is also a chance for everyone to share their memories and stories. We can assist in small, intimate events as well as large gatherings.
Traditions: Do you have cultural or religious traditions you'd like to maintain in the funeral services? Talk to our team about your preferences. We serve families from all backgrounds and respect your choices.
Keepsakes: Not only do you want to hold onto the memory of your loved one, but it is important to have a keepsake from the day you honored their life. We have a variety of options available through Heart's Reflections, giving you a small memento to hold the memories close.
One of the reasons why our team at Wilkinson-Beane-Simoneau-Paquette Funeral Home & Cremation Services stands out in the local industry is because we personalize every funeral service. If you are looking for options to create a unique funeral or cremation in Gilford, NH, then we invite you to contact us for information about available services.
Important Steps for Planning a Funeral
Here is a quick overview of the steps you should follow when it is time to plan funeral services:
Contact a local funeral home: There's no reason why you should navigate this situation without support. Call our funeral home as soon as possible so we can partner with your family to navigate the road ahead.
Consider your options: The best way to create a perfect event is to learn about the possibilities for these services. Knowledge is power – which is why you should take time to research the industry before finalizing your selection.
Honor their wishes: Did your loved one have certain requests or wishes for this event? Be proactive in honoring those wishes. Sometimes, people leave formal funeral plans with a local funeral home. Other times, these wishes are shared with a family member in the final moments before saying goodbye.
Celebrate their life: Yes, funeral services are often filled with tears and sorrow. Even though you are experiencing grief, you can also find ways to celebrate a life well-lived. If a somber funeral service isn't a good fit for your family, then you might choose a celebration of life instead.
Our experienced team offers on-demand funeral planning, as well as pre-planning support for funeral and cremation in Gilford, NH. Visit Wilkinson-Beane-Simoneau-Paquette Funeral Home & Cremation Services at 164 Pleasant St, Laconia, NH 03246. Call today to schedule a time to meet with a caring, knowledgeable funeral director: (603) 524-4300.
Funeral Home & Cremations FAQs
How can I have a memorial service with cremation?

Memorial services can be held before or after the cremation process and are typically organized by family members of the deceased. Speak to your chosen provider about their specific guidelines for memorial services. Learn more about cremation services and the options available.

What type of containers can I use for storing cremated remains?

You can store cremated remains in an urn, a box, or other containers. Urns come in a variety of sizes and materials to suit your preferences. You may also choose to scatter the ashes in a meaningful location or place them in a special keepsake. Speak with your chosen provider for more information about available containers and options.

What information do I need in order to apply for survivor benefits?

When you apply for Social Security benefits, you will need to provide proof of your identity and documentation that shows your relationship to the deceased worker. You may also be asked to provide a certified copy of the death certificate, plus other documents such as marriage certificates or divorce decrees. Be sure to bring all relevant information with you when applying.
What Clients Say