When you are grieving the loss of a loved one, there will be many things that you need to do. One task is writing an announcement of death. While most people don't know what this entails, here are tips from cremation services:
Many times it's best to use certain phrases and words like "died," not passed away, or died suddenly."
Keep lists short; these statements can sound awkward if they go on too long.
Use language such as 'was' rather than 'is.' This avoids having your statement seem present tense when referring to someone who has already passed away"
If you are not sure about the differences, or if you are not sure where to begin, you can reach out to a Gilford, NH cremation service provider like us at Wilkinson-Beane-Simoneau-Paquette Funeral Home & Cremation Services. We are ready to offer the kind of services that you need for your loved one and we can do so at competitive rates. Give us a call at (603) 524-4300 or stop by our location to learn more about the services we offer. 
It can be of great help to read some examples of these announcements. You can get a good sense of the length that the announcement should be and the tone that it should have. There are many sites online where you can find examples and if you are still not sure, you can ask the provider of funerary services that you have hired.
How to Write a Death Announcement
When you are writing a death announcement, there are some things to keep in mind. It's never easy to write this for someone else or even yourself so it can be helpful if you go through these guidelines beforehand so that the thoughts and emotions aren't rushing at once all over your paper
A person has passed away unexpectedly and their loved ones want people who read about them online/in print media (newspapers) to know how they lived, what kind of legacy they left behind etc.
To summarize:
Keep any personal feelings out of the first sentence – just stick with facts
Try not using contractions 3-4 words max per line 5-8 lines maximum
Avoid cliches like "They were taken from
The next thing that you need to do is to write all of the details of who the person was and how they died.
Keep the information simple and do not add too much information that can confuse people. Focus on the crucial facts. Mention the location of the service and any other special requests that you may have, like donations. Keeping it simple can make a difference when writing a death announcement.
You can include a photo with the announcement of death, though keep in mind that doing so will add a bit to your budget.
Death announcements are usually printed and adding a picture can increase the total costs. You will want to remember this as you start planning the announcement for your loved one.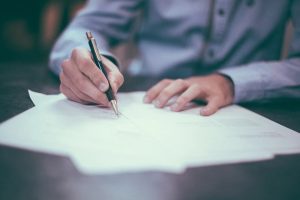 You need to understand that an announcement of death is not an obituary.
An obituary is much longer, for one thing, and it focuses on the person's life. It includes a biography, which an announcement of death does not. Many people choose to have a death announcement as well as an obituary. To let people, know as soon as the death happens, the announcement works well, giving you time to write the obituary a few days later. Keep that in mind as you decide on what works best for you.
These are some things that you want to remember when you start thinking about writing an announcement of death. You want to read examples of these announcements and you also want to be sure that you know what to include. Keep in mind that it is not the same thing as an obituary.