Losing your child is something that can be overwhelming and that you may not be sure you can get past. It is crucial that you get closure and something that can help with this is to plan a funeral or memorial service. If that is what you want to do but you are not sure how to plan a service for a child, there are some tips that can help. Here are the things that directors of funeral homes in Laconia, NH want you to keep in mind.
You want to think about the kind of service you want to have. Some parents prefer a traditional funeral or memorial service, while others want to have something a bit different. For children, having a celebration of life can be a good option. You can honor your child's life, short as it was. It can be a very beautiful option.
Another thing you want to remember is to consider the location that you want for the service. If you want a traditional service, you can turn to a place of worship or a funeral home, but you also want to consider other locations. You may want to think about a place that meant something to your child. Lots of people choose to have the service at home for this reason. If you want to have a celebration of life, having the service in a park or renting another kind of location can be a great option.
Think about the kind of music that you want for the service. What you choose will depend on the kind of service you choose to have. If you have a funeral or cremation, you can have traditional music, like religious options or classical pieces. If you want to have a celebration of life, however, you will need to think of choices that fit that mood. This can be tough for a child's service, since they may not have had favorite music yet. If that is the case, you want to choose soothing pieces that can calm people at the service.
The readings that you choose are another thing you want to consider. If you are not religious, then reading religious texts may not be what you want to do. You can choose to read poetry or a story. Some parents read their child's favorite picture book or story at the service, which can incredibly moving.
These are all things that you want to consider when putting together a service for your child. It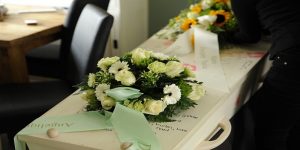 is always going to be extremely difficult to do this, but if you consider all of these different things, you can have an easier time making the arrangements. You can learn more about all of this by reaching out to a Laconia, NH funeral home like us at Wilkinson-Beane-Simoneau-Paquette Funeral Home & Cremation Services. Our team is here to help you with all of the arrangements that you want for your child. Give us a call right now to speak with one of our experts.